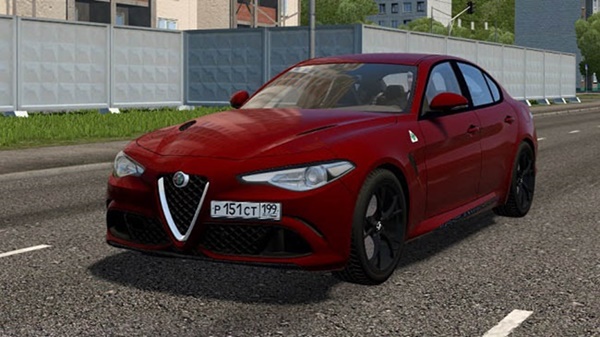 Alfa Romeo Giulia Quadrifoglio car for City Car Driving Simulator.
The display shows the selected gear;
Own sound;
Drops of rain on the windows when it rains;
There is snow on the windows when winter is on;
Realistic physics;
Accurate speedometer and tachometer;
The fuel indicator is working;
Baked body.
Power: 505 hp.;
Torque: 443 lb-ft;
Speed: 307 km / h;
Acceleration 0-100km: 3.6 seconds;
Transmission: 8-Speed ​​Automatic / 6-Speed ​​Manual.
There are 10 Extras:
Round tint
Tinted all windows except the windshield
Half tinted
Other type of wheels
Gray wheels
Police Italian carabinier
Speedometer in Miles / Hour
Interior in red leather
Interior in white leather
Rear view camera