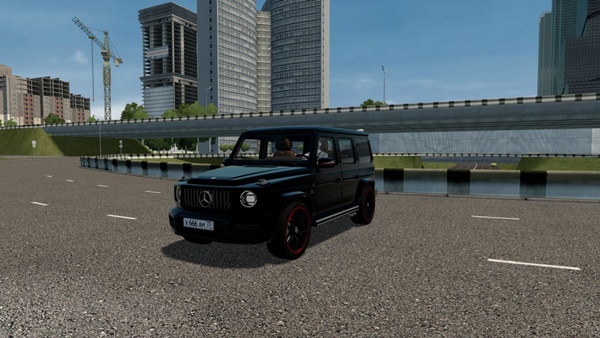 Mercedes-Benz W464 G63 AMG car mod for City Car Driving.
The car has blue "stripes" of illumination in the cabin. When reverse gear is engaged, the color changes to red.
The car has its own sound. It includes: the sound of turning on the engine, the sounds of turn signals, the sound of a handbrake, shots from the exhaust pipe when switching.
The car has a checkpoint indication.
There is a rear view camera (when reverse gear is engaged)
The car has a well-tuned realistic physics.
The car has an automatic transmission, gear ratios and shift range corresponds to a real vehicle.
The car has the ability to use launch control at start (Brake + gas)
The car has a brake caliper on all four wheels.
Switching on the start instrument panel when starting the engine.
Illumination of the rear license plate (including the light is displayed on the pavement)
Raindrops reception of the choice of weather.
Realistic appearance.
Well-designed interior.
The textures of the car are made in high quality.
List of extras (50 pieces!):
Extra 1 – Rims 1 – vossen
Extra 2 – Gray interior
Extra 3 – Black edition
Extra 4 – White interior
Extra 5 – Tinted hemisphere
Extra 6 – Tinted headlights
Extra 7 – Black insert instead of carbon insert
Extra 8 – No plates
Extra 9 – Tinted without windshield
Extra 10 – Tinted in a circle
Extra 11 – Black interior
Extra 12 – Wheels 2
Extra 13 – Sound w213 without backache
Extra 14 – Sound from bmw f90
Extra 15 – Sound from w212
Extra 16 – Tuning kit.
And many others!
The ProgramData folder on the "C" drive, otherwise the textures will be broken!