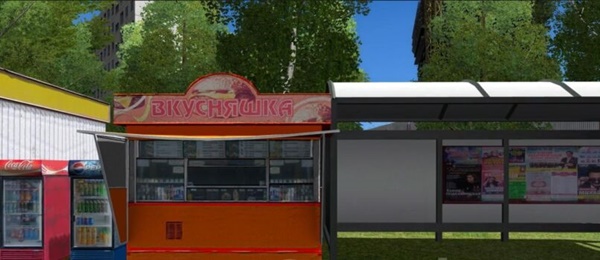 HD Textures for City Car Driving Simulator.
Let me please you with new textures for City Car Driving 1.5.9 and higher!
Textures are part of only for Russian localization (kiosk), they will be displayed correctly only starting from version 1.5.9 (and higher), because on previous versions the file structure is different
Description:
– Replaced the texture of summer country asphalt for more realistic (in my opinion). Instead of a homogeneous freshly laid black canvas, there is now a dusty rolled asphalt of a lighter "worn" shade;
– Summer "asphalt" textures of the sidewalks are replaced with tiles;
– Improved textures of many buildings and traffic cars, some of which have added the corresponding logo;
– Replaced the texture of the brick entrance / exit of the mountain tunnel to a texture of a higher resolution;
– Replaced textures of billboards (advertising boards / posters) with more realistic ones (some of them were photographed on the streets). Developers, I hope you understand and forgive – still for personal use;
– Improved textures of some shops / stalls;
– Changed the texture of the gas station in the direction of greater realism.
The new textures contain both an alpha channel and a bump.
In fact, the description and screenshots show only part of the changes.
Installation:
Unpack the archive according to the internal structure, replacing the original files.
The archive contains a folder "! Backup!" with stock textures in case you want to compare textures with the original ones or return them back.
Changes from 01/06/21:
– Updated billboard textures to the current versions of 2021