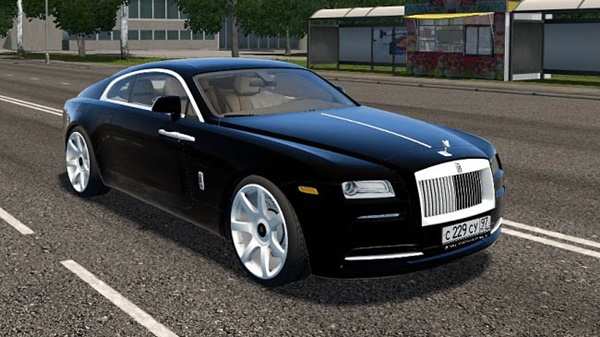 Rolls Royce Wraith car for City Car Driving Simulator.
Rolls-Royce Wraith, produced by Rolls-Royce Motor Cars, has a well-developed model, powerful engine and good handling.
A four-seater coupe based on the Rolls-Royce Ghost chassis, presented at the 2013 Geneva Motor Show
Drive type: Rear.
Transmission type and number of gears: Automatic – 8.
Maximum power: 632 hp
Engine capacity: 6592 cc see
Maximum speed: 250 km / h.
Unique car;
HQ 3D model;
The car has its own growling sound;
Raindrops on the glass with an appropriate choice of weather;
Realistic physics;
Realistic appearance and interior;
Well-designed salon;
3 color options in the cabin;
The frame of the Ministry of Internal Affairs.
Installation: Manual
Passenger transportation available (new)